Lyon Shipyard 900-Ton Boat Lift
A Step Towards The Future
Lyon, which has been operating for almost a century on the shores of the Elizabeth River, purchased the $2.6 million lift as part of a larger expansion project that includes other infrastructure and service upgrades as well as the planned acquisition of additional land outside the yard. The new lift replaces an out-of-date marine railway that had been used for 80 years and had become too expensive to maintain. The new equipment — which was shipped from Italy in more than two dozen Conex boxes and assembled at the yard — has been in operation since March.
Watch Now: 900-Ton Boat Lift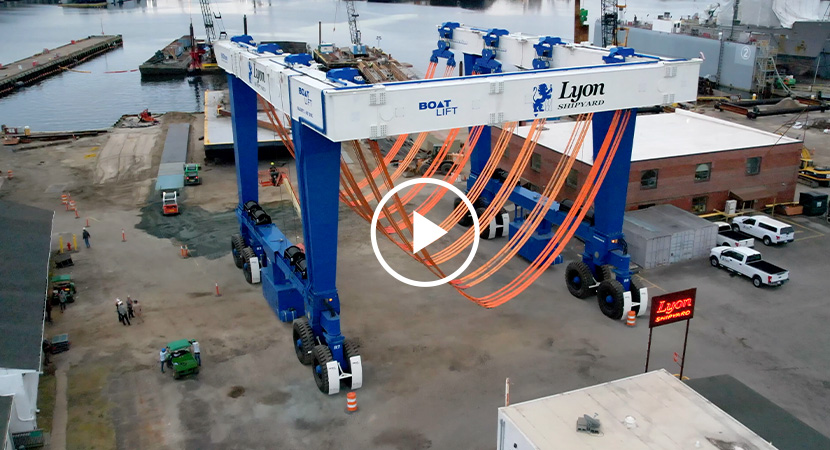 "We are already seeing the payoff on this investment,"
-Dock Master Josh Gerloff
The company estimates that the hoist will bring in enough additional business to create more than 100 new fulltime jobs at a shipyard that has been operating in Norfolk since it was founded in 1928 by George C. Lyon Sr. and his partners. What was once a small frame machine shop is now a full ship repair and industrial services facility covering two facilities on over 35 acres. Company President George Lyon Jr. believes the company is able to take advantage of its status as a small, family-owned shipyard "by being nimble and evolving along with our customers."
The mobile boat lift, which is 60 feet tall and 76 feet wide, allows for emergency repairs in the slings or at pier side. The capability to handle such unexpected calls is one of the biggest benefits of the new equipment.
The new hoist offers dynamic steering control, allowing it to turn 360 degrees, significantly reducing the space needed during a job. It also comes with two tier-4 diesel engines, complete wireless control with a 150 yard range, and adjustable slings, with the largest boat having serviced so far being 150 feet in length.
The average travel speed is about 1 kilometer per hour fully loaded, and 1.3 kilometers per hour unloaded. The winch lifting rate is 1 meter per minute loaded, and 4 meters per minute unloaded. As a key safety feature, the speed of the movement is dictated by the load of the haul. The lift has 16 tires, each 7 feet in diameter. Lyon Shipyard installed recycled asphalt across the yard to accommodate the tires.
Watch Now: Boat Lift Highlights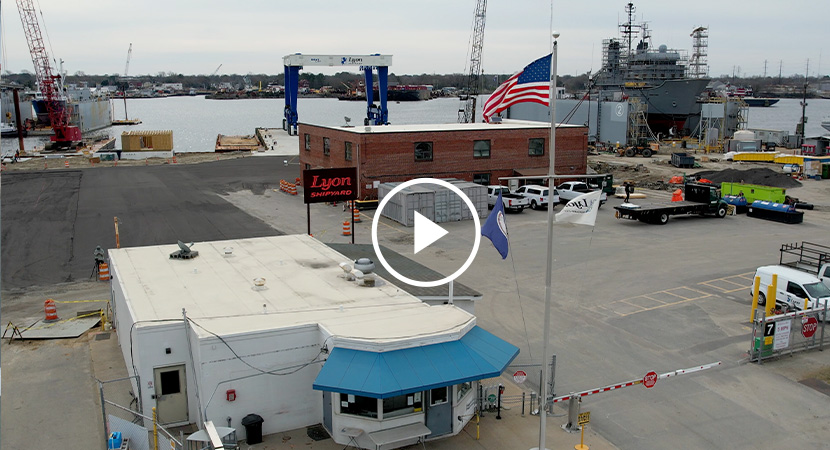 More Images Of The New Lyon Shipyard Boat Lift
The addition has also meant more training for the staff at Lyon. "There's a lot of additional training for our employees," Gerloff said. "We've had the manufacturer here helping us learn to operate it. Every day using it, we're learning something about how it reacts, how to make it more efficient. We're getting better and better at it."
The new lift is part of a $2.6 million expansion that also includes a z-drive shop that works on azimuth drive units, which will allow Lyon to take on more jobs and get them done sooner, including support for vessels transporting the wind turbines that are becoming increasingly visible along the East Coast. Those vessels rely on azimuth drive units.
These expanded resources will put Lyon Shipyard in position to solidify its status as one of the top yards of its size on the Eastern Seaboard.