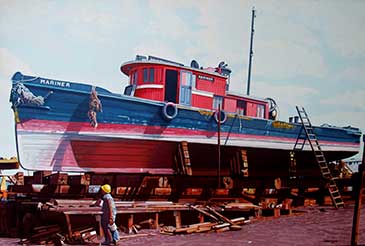 Lyon Shipyard was established in 1928, when George C. Lyon, Sr. and two partners bought the facilities of the G.T. Taylor Marine Railway. Originally known as Moon Shipyard and Repair Corporation, the yard consisted of only a small frame machine shop, carpentry shop, and two marine railways. Moon Shipyard was situated on the same piece of prime waterfront property, the eastern branch of the Elizabeth River, where Lyon Shipyard remains to this day. Shortly after the conception of Moon Shipyard, several other small marine railways & repair facilities began to open on the Norfolk waterfront.
In the late 1950's George Lyon, Sr. became the sole stockholder in Moon, and shortly after changed the name of the yard to Lyon Shipyard. An avid lover of Virginia, Mr. Lyon was heavily involved in the support and development of the community. In his spare time, he helped establish the Ocean Park Fire Department and served as its chief for many years. He was an active member of the Lions Club and longtime member and chairmen of the Virginia Beach Public School Board. Mr. Lyon also served on the Vestry of Old Donation Church.
In 1972, George C. Lyon, Jr. joined the company as Vice President. A few years later, with the passing of his father, control of the company was passed to George C. Lyon, Jr. With the future of the company in his hands Mr. Lyon, Jr. began to revamp the company to position it for greater growth.
Over the next three and a half decades the shipyard grew through key acquisitions and expansions into new markets. Under George Lyon, Jr.'s leadership, the company grew ten fold and established itself as one of the premier shipyards on the east coast of the United States
Today, Lyon Shipyard proudly serves as a full service ship repair and industrial services facility with over 90 years of continuous service. This thriving organization has a solid focus on Quality, Family, Integrity, Diversity and Safety and looks forward to a lifetime of growth and success.